You will love these Triple Fudge Chocolate Cookies because it's just in time for the holidays and there is much to do, but there's always time for chocolate! It's just a much needed break in your day, that's all ;)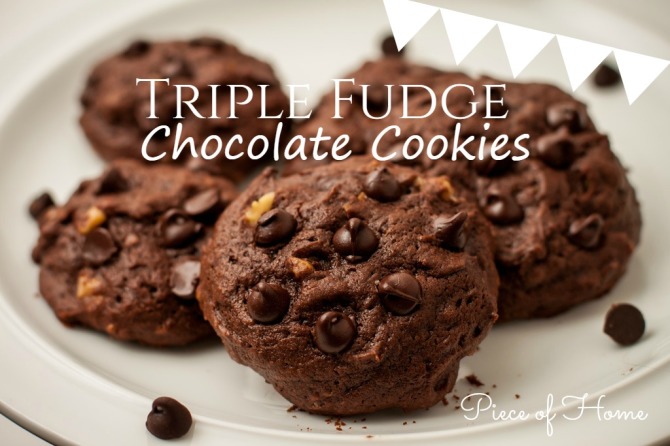 This is truly the kind of cookie that you must have a glass of milk nearby. Aren't those the greatest! I was totally inspired to make this recipe after seeing the deliciousness on Roxana's Home Baking.
Now I know you must be a chocolate lover, because really, who isn't? (except my husband! sheesh)
Get ready for your chocolate fix!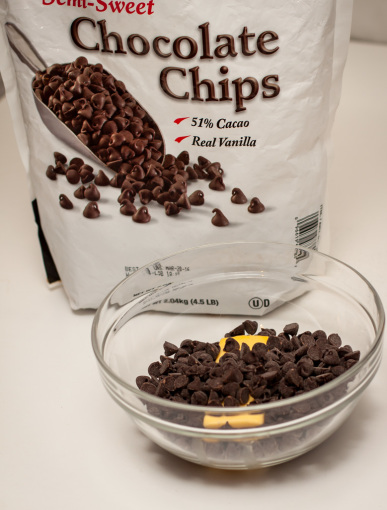 These cookies are so fun because they have an amazing chocolate sauce that is literally so delectable it almost makes you forget you are making cookies!
Melt together butter and chocolate chips to create this goodness! You can use the microwave (stirring occasionally) for convenience or a double boiler.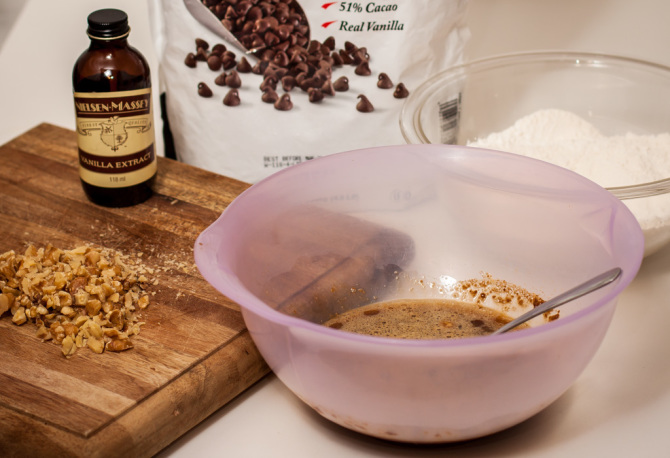 In the meantime, mix together the eggs, sugar and vanilla. At this time you should be smelling the melting chocolate and wondering if you should be doubling this batch!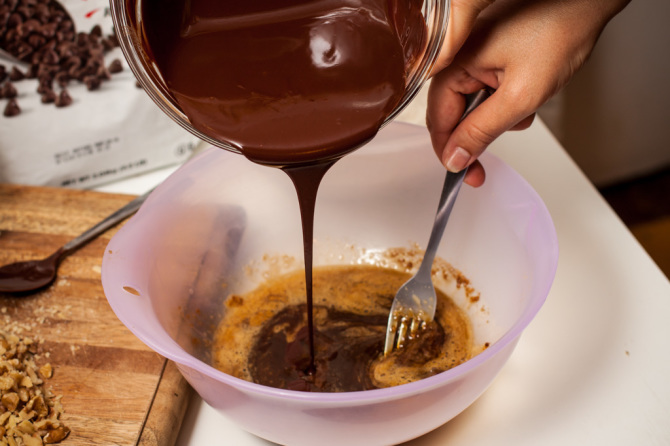 Let the chocolate sauce cool so it's not boiling hot and then add it to the egg mixture.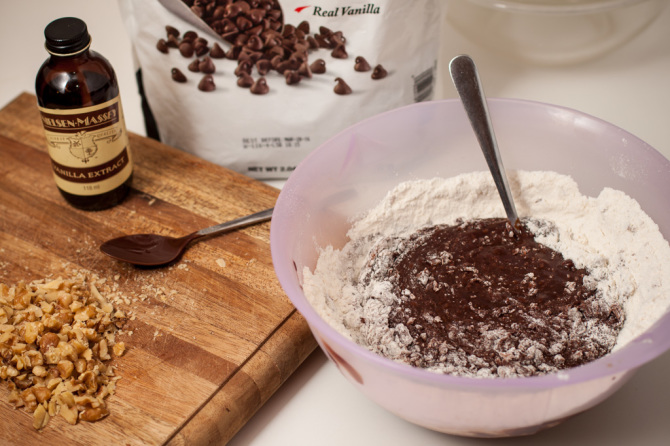 Slowly add the dry ingredients and stir until everything is moistened and there are no clumps.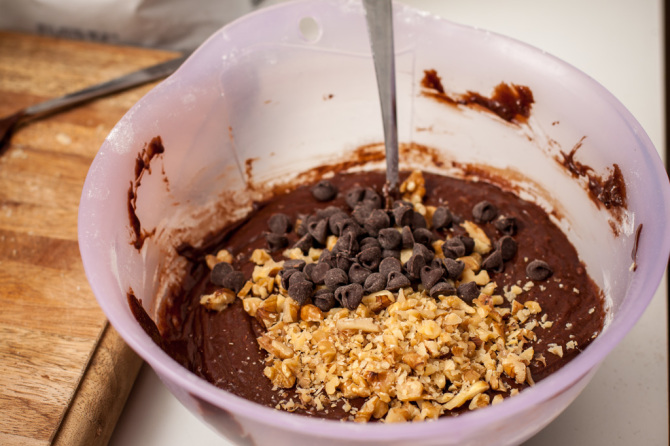 Next, add the chocolate chips and chopped walnuts. Place them on a cookie sheet and bake!
The chocolate smell should be so strong by now you should already feel like a glass of milk! The house will smell so amazing!
Well, hello gorgeous! *No calorie counting allowed*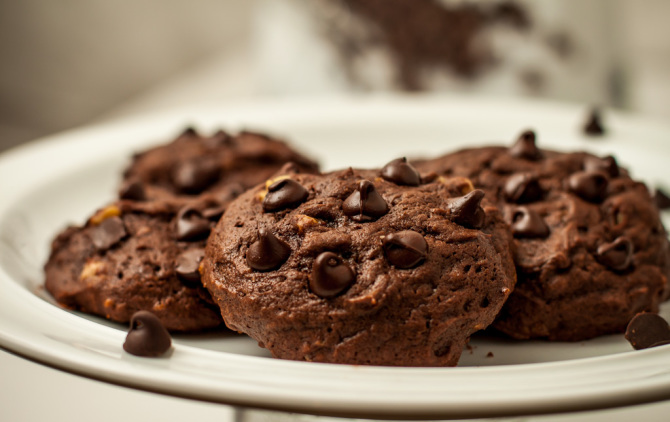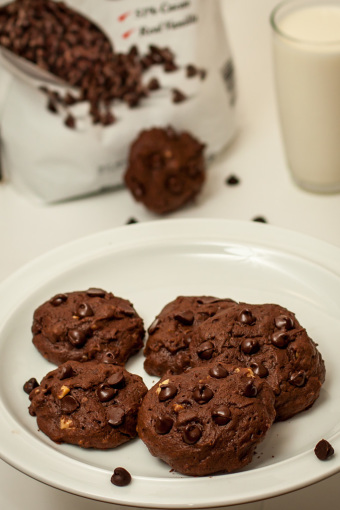 Triple Fudge Chocolate Cookies 

Ingredients:
8 oz. semisweet chocolate chips
6 Tablespoons butter
2 large eggs
3/4 cup brown sugar
1 teaspoon vanilla extract
1 and 1/3 cups all-purpose flour
1/4 teaspoon baking powder
1/3 cup chopped walnuts
4 oz chocolate chips or chunks
1 cup chocolate chips or chunks
Directions:
1. In a microwaveable bowl, melt 8 ounces of chocolate chips and butter in the microwave. Be sure to stir occasionally to help even melting.
2. Meanwhile, in a medium size mixing bowl, beat together 2 eggs, sugar, and vanilla until creamy. The mixture will be fairly frothy.
3. Once the melted chocolate has cooled a bit, stir the melted chocolate into the egg mixture and gently stir in the flour and baking powder.
4. Fold in the chopped nuts and chocolate chips or chunks.
5. Chill the cookie dough for 30 minutes.
6. Once the cookie dough is hardened, using a large scooper, roll cookie dough into balls and place on a baking sheet.
7. Refrigerate the prepared cookie dough for at least 2 hours before baking.
8. Heat the oven to 350F.
9. Just before baking, spinkle the cookies with the remaining 1 cup of chocolate chips and chunks.
10. Bake for exactly 16 minutes.
11. Remove the baking sheet for the oven and let cool on a wire rack.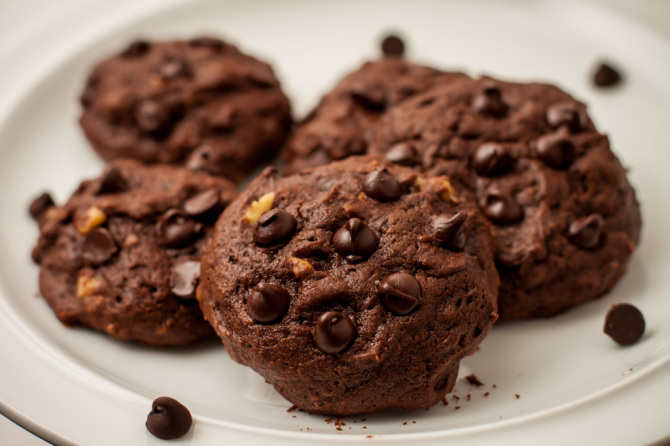 These are just perfect for the holidays! Your chocolate lover family members will love you for these Triple Fudge Chocolate Cookies!
Enjoy!