Lots of company and no time to cook? This easy banana bread oatmeal bake that tastes just like banana bread is a real crowd pleaser with little effort on your part!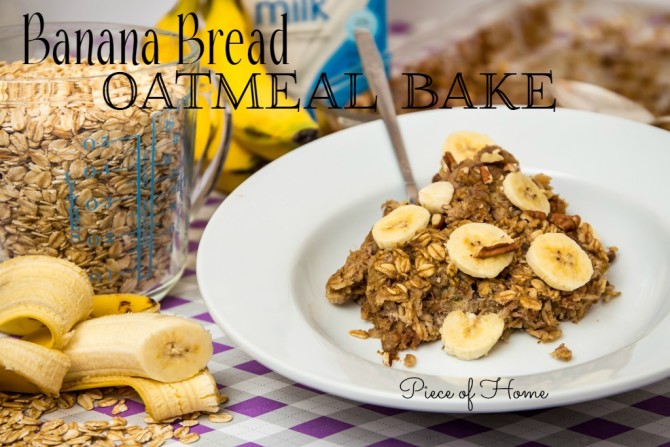 There is nothing like family & friends for the holidays! Lots of company and guests! That means, hardly no time at all! This oatmeal bake can feed a crowd and leave everyone happy!
I love making oatmeal bakes the night before and all I have to do is pop it in the oven the next morning! LOVE that!
Start by mashing up a few bananas. This goes together so fast you'll wonder how you didn't know about this sooner!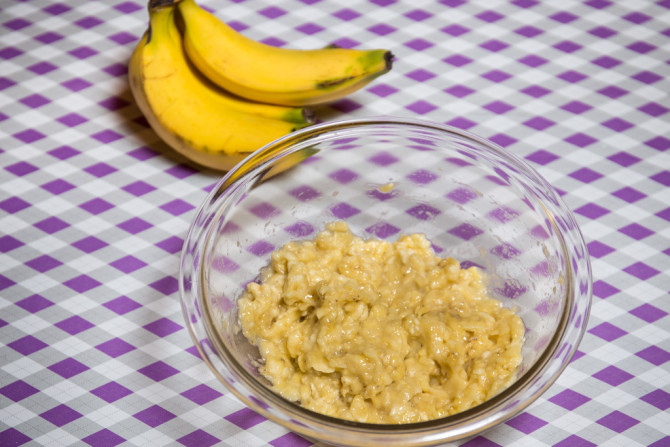 Add the brown sugar and eggs.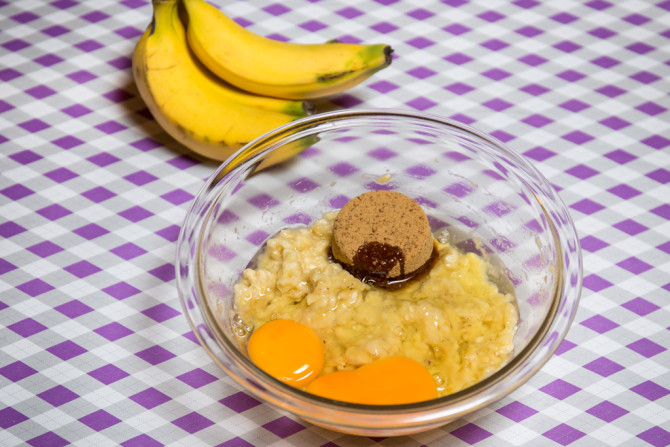 Next, add the vanilla, baking powder, baking soda, cinnamon, nutmeg, and salt.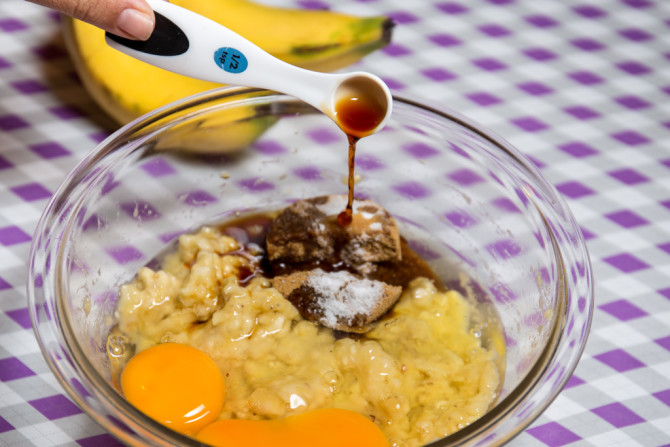 Mix that all together. Sure doesn't look very appealing does it? Just wait!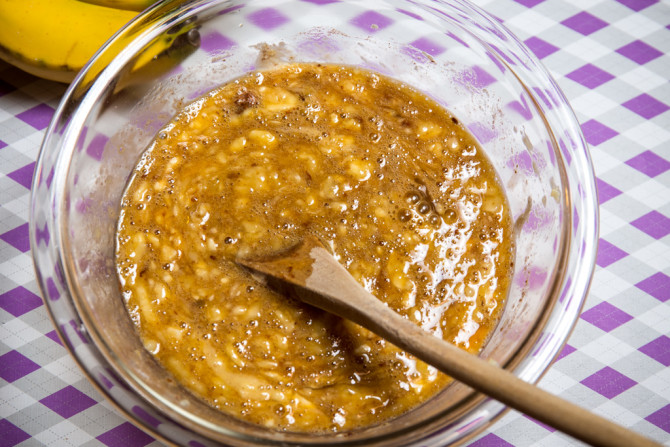 Add the milk while gently stirring.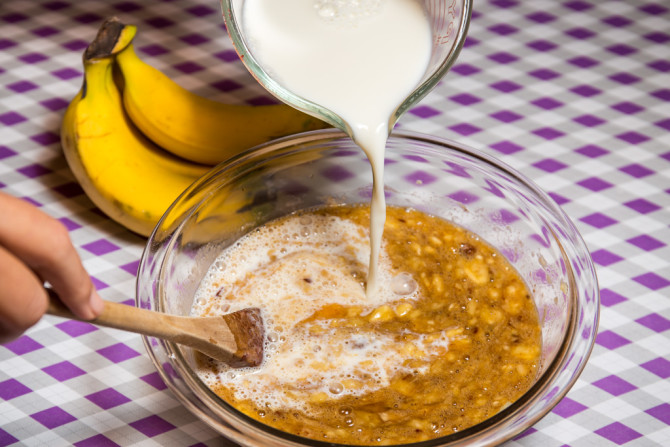 Measure out some old-fashioned oats and add them to the mix.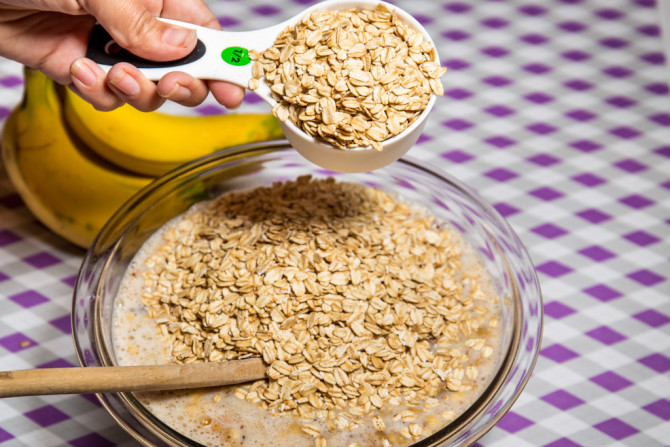 Chop up some pecans and add that to the mix as well!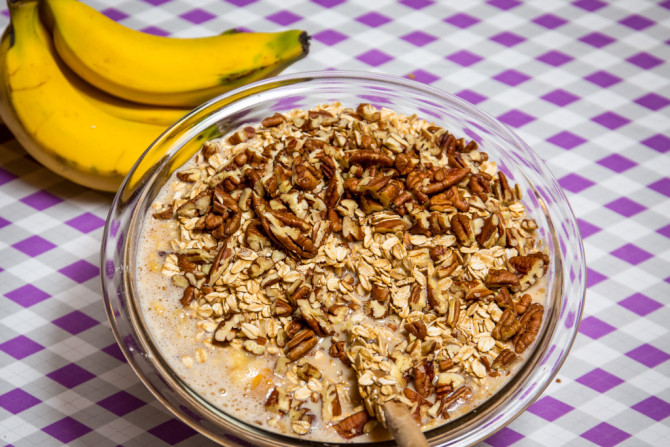 Just like that! Pour it into a 9×13 and it's ready for the oven!
Wait! Did you notice how little sugar goes in this? It's plenty sweet too! This makes this delicious breakfast a great healthy start!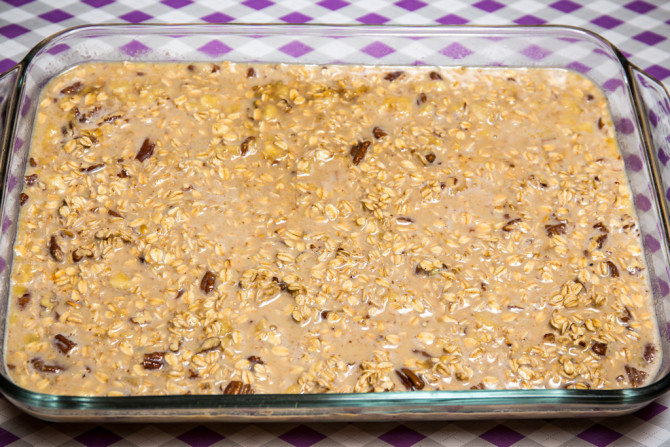 Oatmeal bakes are impossible to take good pictures of. Once you add the milk, it turns into one big brown sloppy mess. One delicious mess that is! So don't worry, I didn't eat this dry, I did add a little bit of milk before eating it. Yum!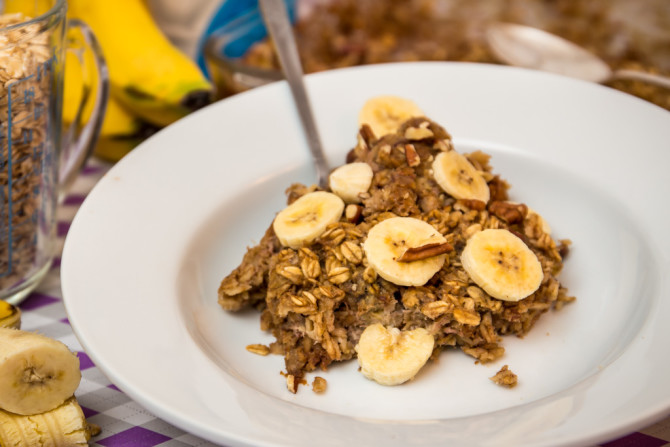 Banana Bread Oatmeal Bake 

Ingredients:
3-4 medium bananas, mashed
⅓ cup brown sugar
2 large eggs
½ tsp salt
½ tsp vanilla
½ tsp baking powder
½ tsp baking soda
2 cups milk
2½ cups old-fashioned oats
¼ tsp cinnamon
⅛ tsp nutmeg
½ cup pecans, chopped
Directions:
1. Preheat the oven to 350 degrees F.
2. Mash the bananas until most of the lumps are gone. You should have about 1.5 cups.
3. Mix the mashed bananas together with the brown sugar, eggs, vanilla, baking powder, baking soda, cinnamon, nutmeg, and salt. Next, whisk in the milk, then stir in the oats. Chop the pecans and stir them in as well.
4. Spray the inside of a glass baking dish (9×13) with non-stick spray. Pour in the oat mixture. Cover with foil and bake for 30 minutes. Remove the foil and bake for another 15 minutes or until the center is solid and the edges are slightly golden brown.
Serve warm or refrigerate and enjoy cold!
{adapted from Budget Bytes}