Specialty pizza at it's best! Topped with spinach and garlic, this pizza packs a punch!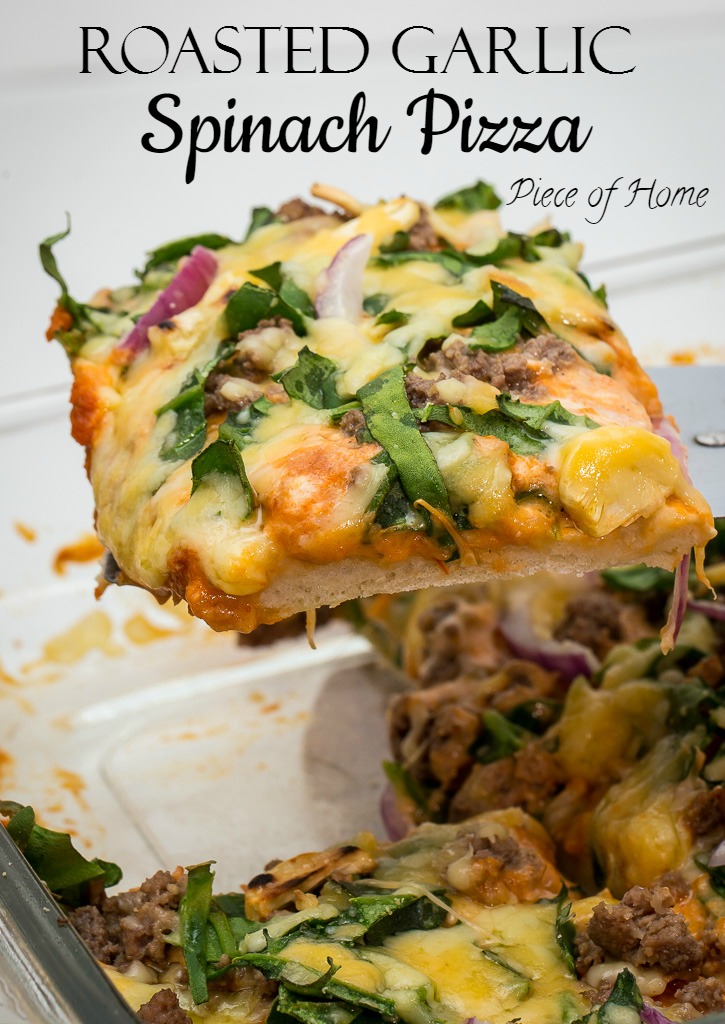 I've never considered myself spontaneous.
I like to plan. I love to have a plan, a list, and to be organized. It just makes things go so much smoother! I've come to realize lately though that sometimes my "organized plans" can ruin the happiness of spontaneity. Now to clarify…
I've found that when I have a plan but am willing to let it go in order to be spontaneous, wonderful things happen! However, when I'm so stuck on my plan going as I had in mind, I can't branch away from it and it's more like a huge sore thumb! Now I'm not saying to not have a plan, no not at all. Just give into those spontaneous moments and enjoy what's in front of us. Like this Roasted Garlic Spinach Pizza. Now that is something to be enjoyed!
This past week we had a houseful of guests. Now what better to serve to a large group of people than pizza on a Friday night! It was a hit and between the Roasted Garlic Spinach Pizza and the Chicken Apple BBQ, this one won hands down! It's gotta be the RANCH!! All the Ranch fans will openly admit their infatuation with that stuff. It's that good.
Midway through my week of guests, I had a meal planned and because of a change in plans, I had to change my meal quickly. Now to some OCD planners and organizers (kinda like me…) that can be super stressful. However, I took it in stride and the meal came out so good! So good, I didn't even get to take pictures before it was all gone. By the way, Chicken Pot Pie is a GREAT recipe to make with a large group of people. Tummies happy and home comfort given. Happy Guests! Yay for Spontaneity!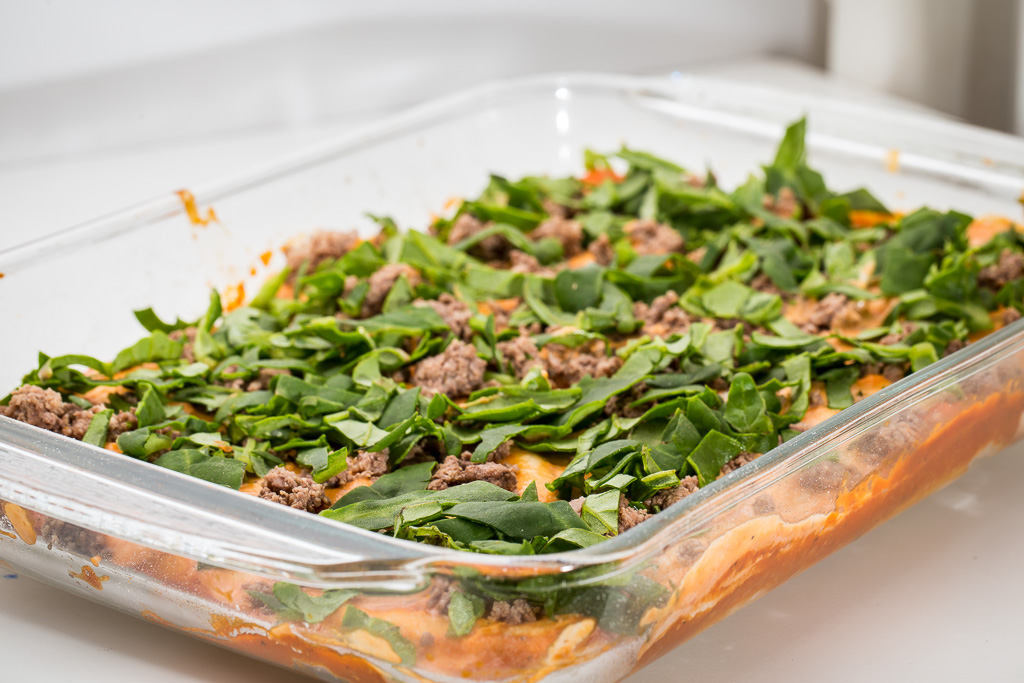 I think I mentioned already that this pizza is hiding some Ranch under all those greens. Yes, you heard me, Ranch! That makes all the spinach A-ok!
Once you add the roasted garlic and red onion, there is no hiding the beauty of this pizza! I learned something new with this pizza. I have to share it with you. Did you know that roasted garlic is a bit spicy? I had no idea and popped a big chunk in my mouth and had a HUGE surprise. Just a note for those of you who don't want such a garlic overload, you can cut those cloves a bit smaller before roasting. Otherwise, enjoy the zip!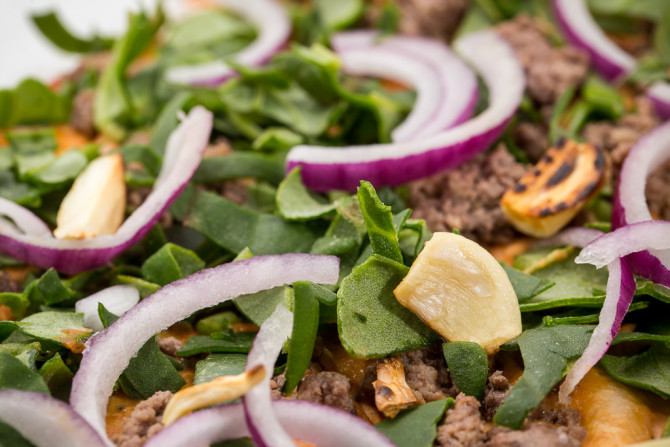 The cheese just adds the finishing touch of color and flavor. It's the sure sign that this pizza is ready for the oven! Grab your friends and have a grubbin' good time!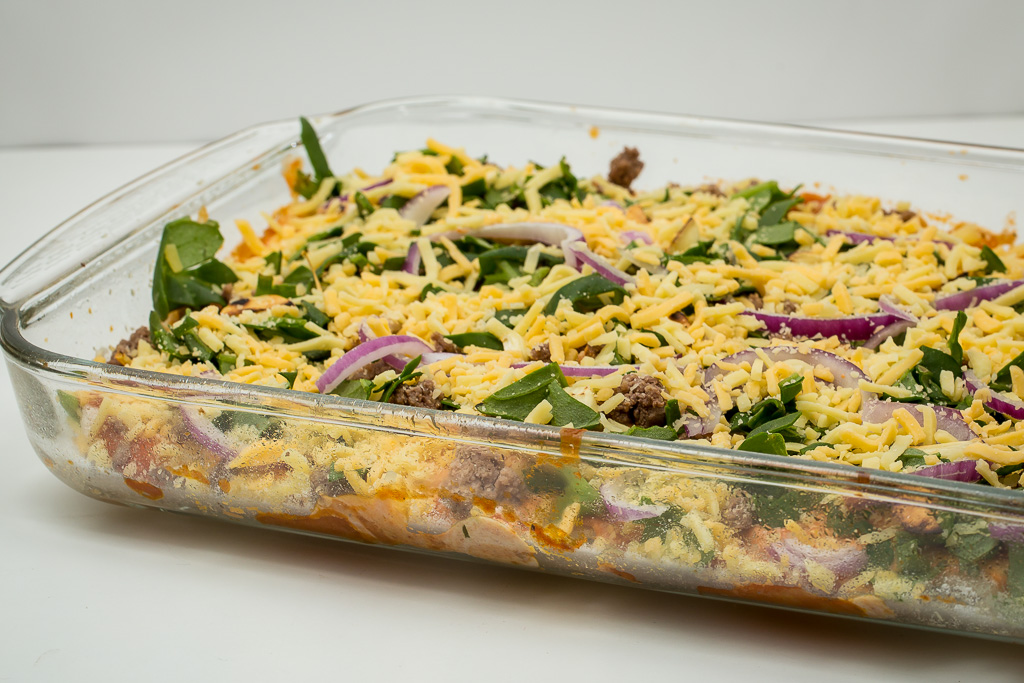 Roasted Garlic Spinach Pizza 

Ingredients:
1 ball prepared pizza dough, homemade or store bought
1 lb. ground beef, cooked, crumbled
1/2 cup pizza sauce, homemade or store bought
1/4 cup Ranch
1 cup spinach, shredded
1/4 cup red onion, sliced
1/2 bulb of garlic, cut in halves, roasted
2 cups cheese
Directions:
1. Roll out your pizza dough into a 10-inch circle or 9×13 rectangle.
2. In a large saucepan, brown the ground beef until no longer pink. Drain off all the juices and crumb the meat with a fork.
3. Peel the cloves of about 1/2 a garlic bulb. Cut each clove in half longways and place in a medium saucepan on medium heat. Stir until the sides have browned. Careful not to burn them!
4. On the prepared pizza dough, spread the pizza sauce and ranch. Sprinkle the ground beef evenly over the dough. Top with shredded spinach and sliced onions. Add the roasted garlic.
5. Top with cheese and bake at 400 degrees F. about 15-20 minutes until cheese has melted and crust is no longer doughy.
Enjoy!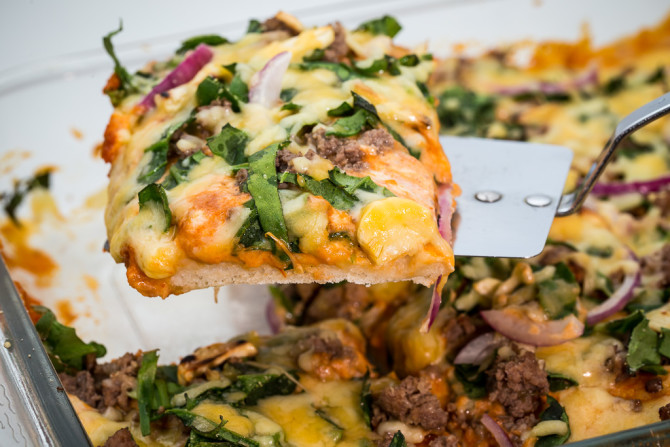 If you liked this recipe, don't forget to follow me on social media for many more yummy recipes!