It's passion fruit season! A sweet and tart passion fruit syrup goes great with these crepes! Crepes are just one of those things I always think of last. I don't know why because they are soo much more fun than pancakes, they are so delicate and the filling choices are endless! I've been anxious to try something with the passion fruit growing right outside our door so I came up with a Passion Fruit Syrup for these crepes. A very delicious combination with the sweet and tang of the seeds. I've had this syrup before where it is blended so there are no seeds but I really enjoy the crunch of the seeds so I chose not to blend it this time. Totally a personal preference!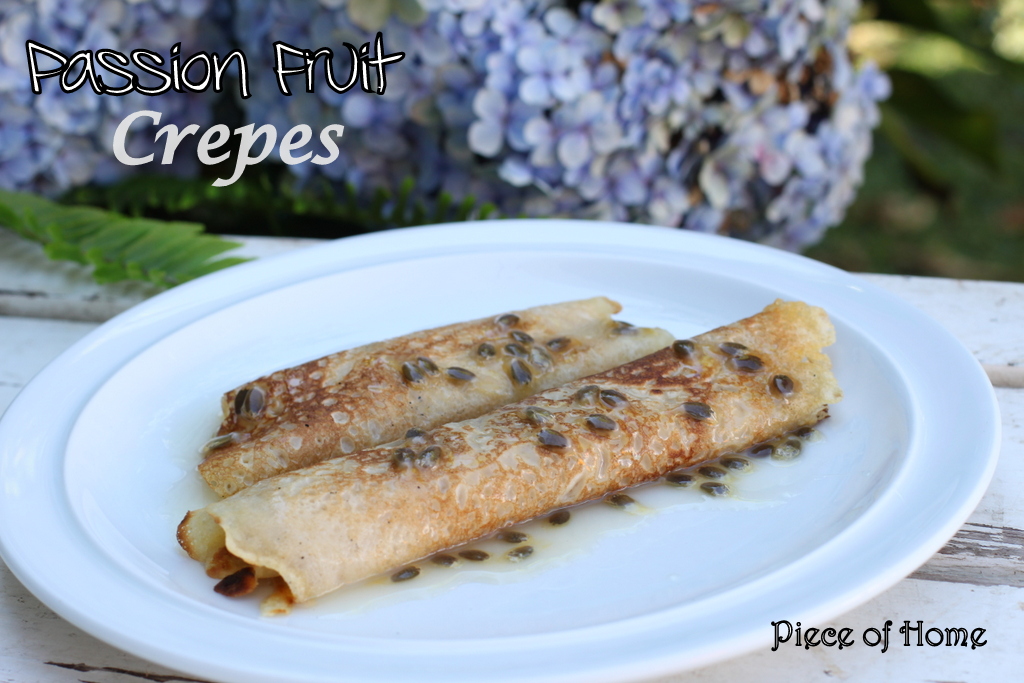 For the Crepes:
Ingredients:
2 tablespoons unsalted butter melted (plus more for frying)
1 cup all-purpose flour
1 ⅓ cups milk
1 large egg
Directions:
Melt the butter and let cool a little.
Put the flour, milk and egg into a blender to mix well. Pour into a jug and stir in the melted butter. Otherwise, just pour the flour into a bowl, whisk in the egg and milk and finally, just before making the crêpes, the melted butter.
Heat a pan and ladle 2–3 tablespoons of batter into the pan then quickly hold it up and swirl so that the batter forms a quick, thin pancake covering the base of the pan. This will cook in a minute so flip it and cook for 30 seconds to a minute on the other side, then remove the crepe. Continue with the rest of the batter.
For the Sauce:
1/4 cup sugar
plup of 2 passion fruits
1/2 cup of water
2 tsp cornstarch
Directions:
Place the plup, sugar, and water into a pan and heat until boiled. Once the sugar is dissolved, add more water or cornstarch to get to the right consistency. Serve warm.