The most popular granola in town! This granola is a very tasty, family-friendly meal and best of all customizable!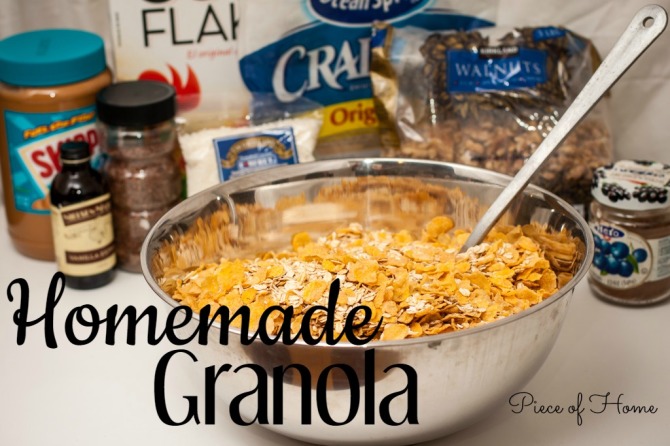 I LOVE homemade granola. It's just one of those things that is always in our house. Every week I have a "essential items" list to make. It always includes granola, homemade yogurt, and banana bread.
Everyone has to have an essential. This is it for us. Granola!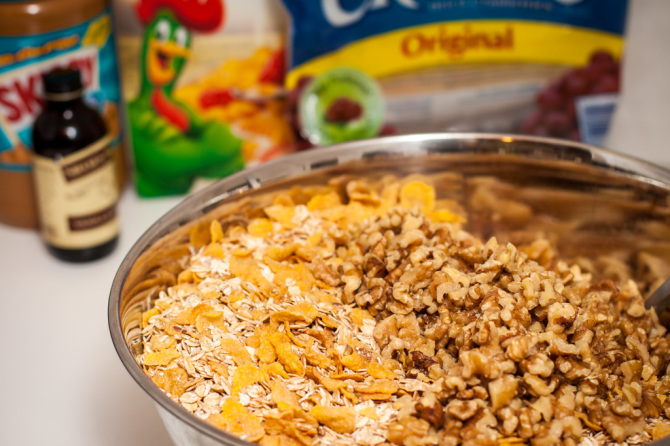 The best part about granola is you just take whatever you are feeling like and dump it in. I had to write my recipe down this time because I usually just get to throwing things in that I have no idea what my measurements are!
First up, Cornflakes. Oh man, I just love cornflakes. It adds so much to granola too! My husband loves the cornflake chunks he always finds in his granola. So, add them in!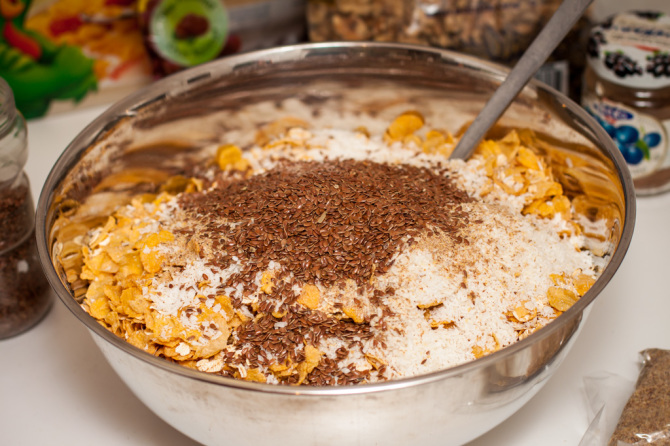 So far, we have oats and cornflakes. Next, I usually throw in some coconut, flax seeds, wheat germ, and a small amount of brown sugar. You can add at this point any other seeds, nuts, or favorite things to the mixture. Get creative!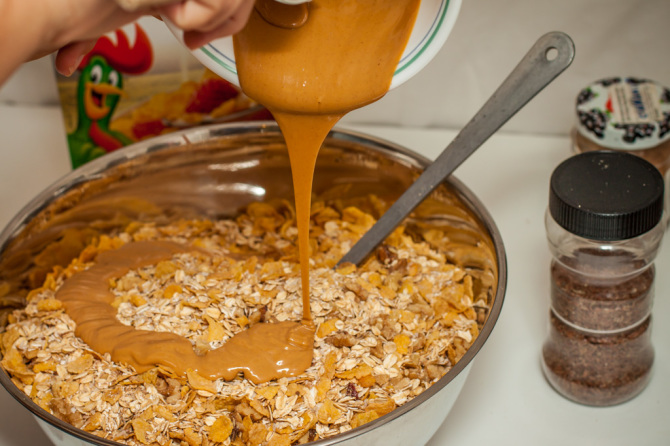 Now for the fun part! Melt some peanut butter and drizzle it over the mixture. YUM!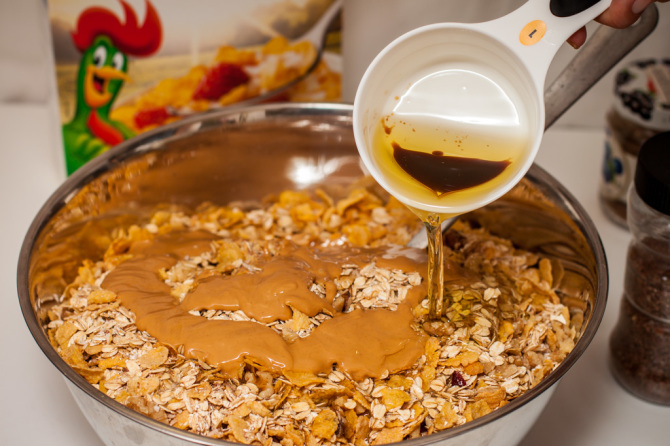 Add oil and vanilla. I mixed mine together this time, not sure why but there it is.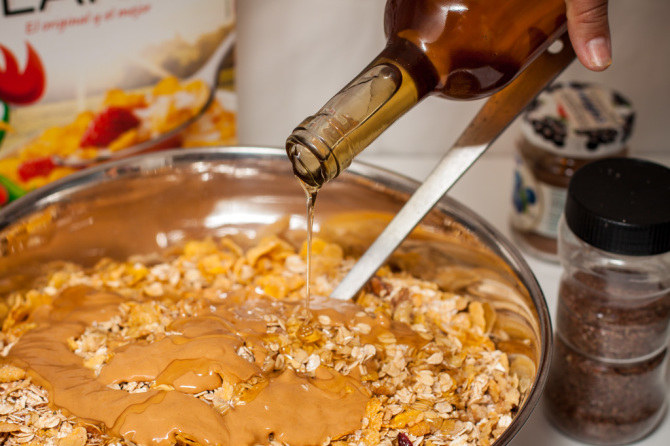 For the sticky sweetener, I usually go between honey, maple syrup, or molasses. This day I chose honey because we had just purchased a new jar from a local honey shop! So that's it! Mix it all together and bake, stirring occasionally until it's browned. Once it's browned and cooled, add the dried fruit. Our favorite dried fruits are craisens and blueberries.
*Note I made this batch really huge because I was expecting company but you can make as much as fits the size of your family
Homemade Granola
serving size: about 12, 1/2 cup servings
Ingredients:
4 cups rolled oats
2 cups cornflakes
1 cups walnuts, chopped
2 Tbs. Flax seed
2 Tbs. Wheat Germ
1/2 cup coconut
1 cup dried fruit
1/4 cup peanut butter, melted
1/2 olive oil
2 tsp. vanilla
1/4 honey or maple syrup or molasses
Directions:
1. Preheat the oven to 400 F.
2. Place the oats, cornflakes, coconut, flax seeds, wheat germ, walnuts in a large bowl and mix.
3. In a small microwavable bowl, melt the peanut butter in the microwave until drizzly. Drizzle peanut butter over the mixture.
4. Pour in olive oil, vanilla, and honey. Mix the mixture well until well coated with moisture.
5. Spread the mixture thinly onto baking sheets and bake for 30 minutes or until golden brown or toasty, stirring every 10 minutes.
6. Remove granola from oven and let cool. Once cooled, stir in dried fruit. Place in an airtight container and store in the pantry.
*Note: If you bake the dried fruit with the rest of the mixture, they turn very hard which can be very dangerous when chewing. Make sure to add them after the mixture is done baking and has cooled.
I would love to hear about your granola creations! What are some of the ingredients you add to your granola?