With our church convention coming up and expecting company, I decided to make some of these cookies in advance and freeze them. Never hurts to be ready! I was so glad I did because they were a hit and easy to just warm up again in the oven! My Hubby and I did steal a few while we were playing cards. Who can pass up a cookie warm from the oven? Yum!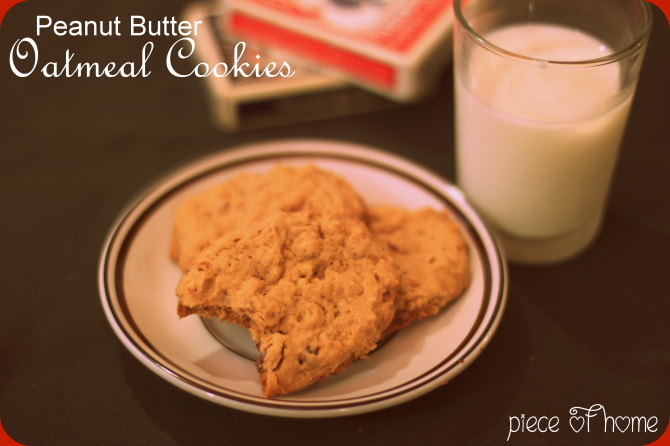 Peanut Butter Oatmeal Cookies
inspired by: Mel's Kitchen Cafe
1 cup (2 sticks) butter
1 cup peanut butter
1 cup packed light brown sugar
1 cup granulated sugar
1 teaspoon vanilla
2 large eggs
2 cups flour
1 cup quick rolled oats
2 teaspoons baking soda
1 teaspoon salt
12-ounce bag semisweet chocolate chips
Directions:
Preheat oven to 350 degrees F.
In a large bowl, cream together the butter, peanut butter, brown sugar and granulated sugar. Add the vanilla and eggs and mix until the batter is light in color, about 2-3 minutes. Stir in the flour, oatmeal, baking soda and salt. When it is mostly combined, add the chocolate chips and mix until well combined.
Scoop out tablespoon-sized balls of dough onto a greased baking sheet, spacing the cookies 1-2 inches apart. Bake for 10-12 minutes until lightly browned and still soft in the center. Place cookies on a cooling rack to cool completely.
These are great for freezing! They have such wonderful texture, they are bound to be a hit!