This is a delicious cheesy, chicken and potato recipe that I couldn't fully enjoy, because I have not been able to find bacon around here! There is always a lot of pork for sale in the markets but no bacon. I am on the search now, because who can call a baked potato loaded when there is no bacon, or green onion. I'm going to have to make this again. But even without some of the crucial ingredients, it was very delicious!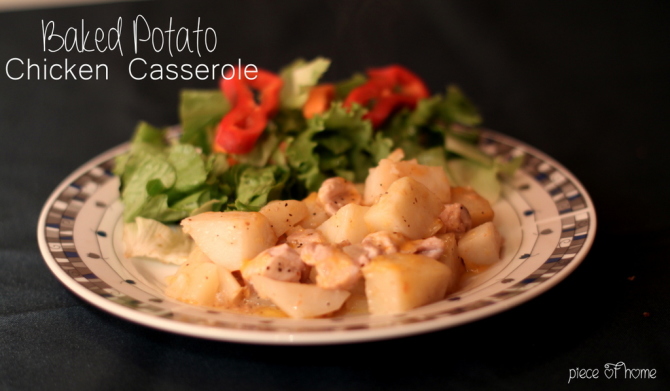 Baked Potato Chicken Casserole
1 lb chicken breasts, cubed
4 potatoes, cubed
1/4 cup olive oil
3/4 teaspoon salt
1/2 tablespoon fresh ground pepper
1/2 tablespoon paprika
1 tablespoon garlic powder
1 tablespoon garlic, minced
3 tablespoons hot sauce
1 cup cheddar cheese, shredded
1/2 cup bacon, crumbled
1/2 cup green onion, diced
Directions:
Preheat oven to 450. In a large bowl mix the olive oil, hot sauce, salt, pepper, paprika, garlic powder, and garlic. Add the potatoes to the bowl and mix well. Pour potatoes into a greased pan, reserving some of the sauce. Bake the potatoes for 45 minutes, stirring frequently. While the potatoes are baking add the cubed chicken to the remaining sauce so it can marinate. In a small bowl mix together the cheese, green onion and bacon. When the potatoes are tender, add the cubed chicken and the layer of cheese mixture and place in the oven for another 15 minutes, or until chicken in done. Enjoy!