Who wouldn't want to wake up to this deliciousness!?? I thought I would just make some simple pumpkin pancakes to use up my leftover pumpkin, when I got the idea to try it out with the Cinnamon Roll pancakes that I make (and are well known and loved in our family :) It was a hit! We had to convince ourselves not to eat this whole stack! These would be a great hit with kids too!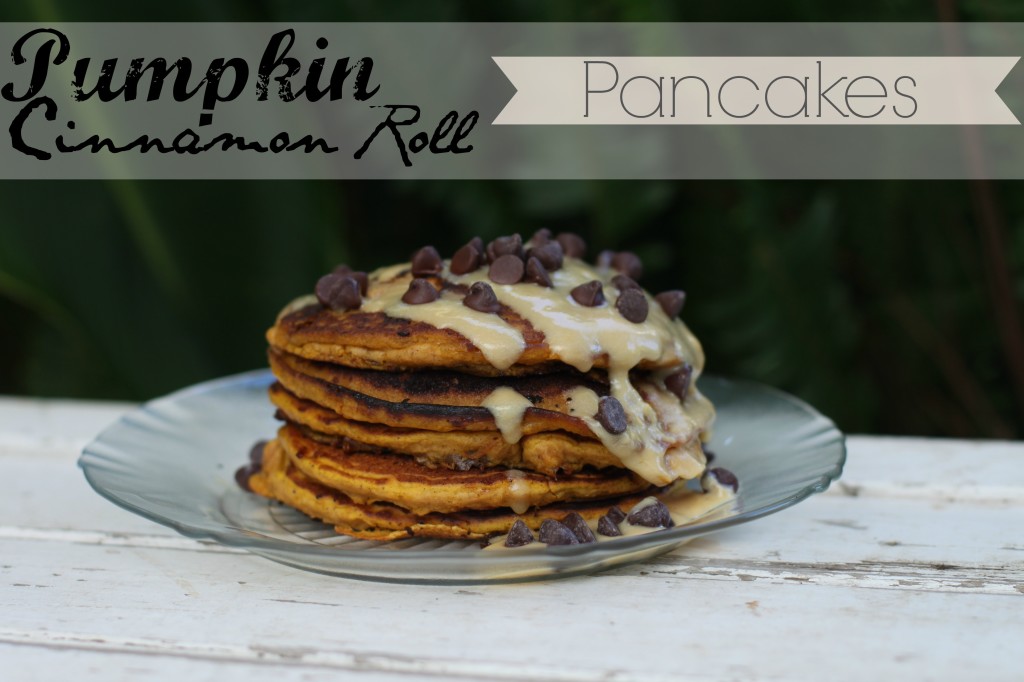 Pumpkin Cinnamon Rolls Pancakes
inspired by: Piece of Home
Ingredients:
1 1/4 cups all-purpose flour
2 tablespoons sugar
2 teaspoons baking powder
1/2 teaspoon cinnamon
1/2 teaspoon ginger
1/2 teaspoon nutmeg
1/2 teaspoon salt
1 pinch clove
1 cup milk
6 tablespoons canned pumpkin puree
2 tablespoons melted butter
1 egg
Cinnamon Filling:
4 tablespoons (1/2 stick) unsalted butter, just melted (not boiling)
1/4 cup + 2 tablespoons packed light brown sugar
1/2 tablespoon ground cinnamon
Cream Cheese Glaze:
4 tablespoons (1/2 stick) unsalted butter
3-ounces cream cheese, at room temperature
1 cup powdered sugar
1/2 teaspoon vanilla extract
1/4 milk
Directions:
In a medium sized bowl, combine the four, sugar, baking powder, cinnamon, ginger, nutmeg, cloves, & salt. In a large bowl, combine the milk, pumpkin puree, butter, and egg. Slowly combine the dry ingredients to the wet ingredients while constantly stirring. Heat up two large skillets or a griddle, and place about 1/3 cup of batter per pancakes. When you see bubbles, add a swirl of the cinnamon mixture. Flip when pancakes is golden brown on the other side. Place in a warm oven until all pancakes are finished cooking. Serve with the cream cheese glaze.
Cinnamon Filling:
Melt butter and mix with sugar and cinnamon in a bowl. Once combined, pour into a small ziplock bag and snip the corner so you can squeeze the mixture out onto the pancakes.
Cream Cheese Glaze:
Mix cream cheese and butter together until well blended. Add milk and stir until well blended (sometimes I just add a few tablespoons at first in case it gets too runny). Add vanilla. Then, while constantly stirring, add powdered sugar a little at a time until it's at the right consistency.
This was a really exciting photo shoot! These pancakes were just looking so picture perfect hot off the pan! We had fun and had a yummy breakfast. These were pretty special! A perfect way to use some of that pumpkin! Another perk, they also work well for dessert hehe :)