A soft, sweet, roll filled with cinnamon and brown sugar, with a crunch and tang of apple. Apple Cinnamon Rolls are a wonderful fall time treat!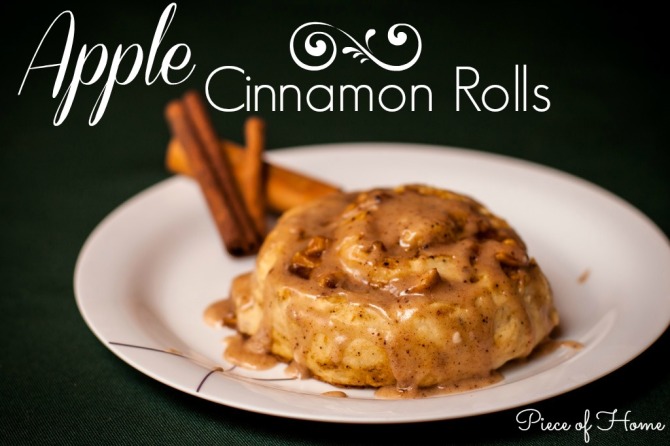 Since I have a huge sweet tooth for cinnamon rolls, I could not resist making an apple version!
Well, who can resist cinnamon rolls anyways?
I used my Easy Cinnamon Roll recipe for the dough, because it's easy and I don't have to wait. Waiting forever for cinnamon rolls is not my idea of fun. If I want to make these it needs to be done in about half and hour. I love recipes that accommodate that need.
And, I don't think I'm the only one out there who's like that… just give me easy!
Making the apple filling is a fun part of the process because of the amazing smell! I just love the smell of warm apples cooking! So just melt the butter, and thrown in the chopped apple chunks, white sugar, brown sugar, and cinnamon.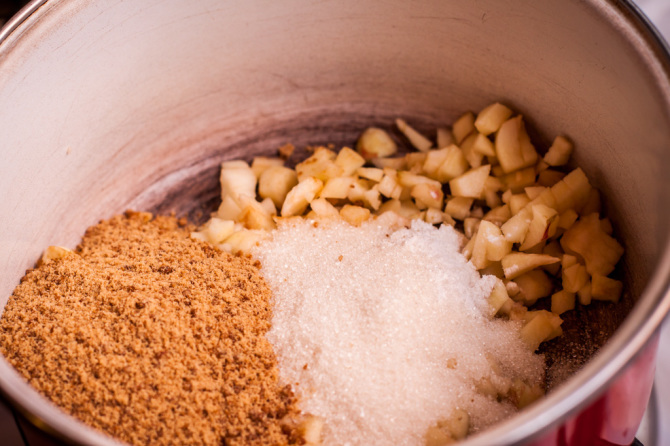 Heat on medium heat until you start smelling those wonderful smells! It can simmer while you make the dough.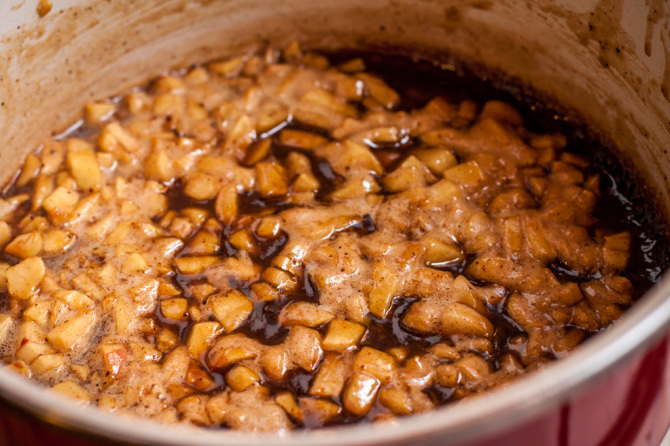 Throw in all the dry ingredients (I added some cinnamon to the dough too!) and work your dough ball into a rectangle as best you can. I used a roller and was able to get a pretty nice sized rectangle.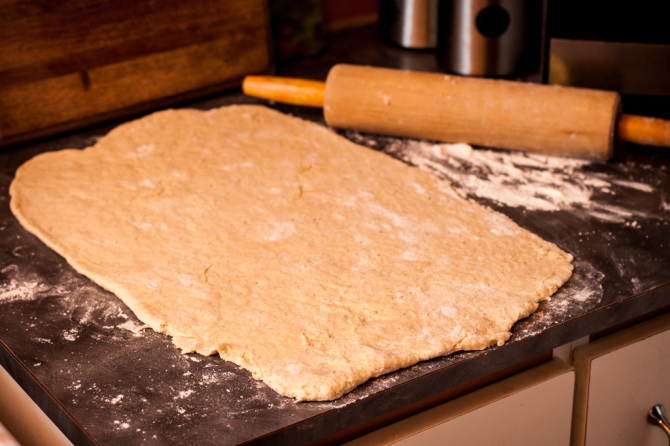 Don't be afraid to use lots of flour to keep it from sticking!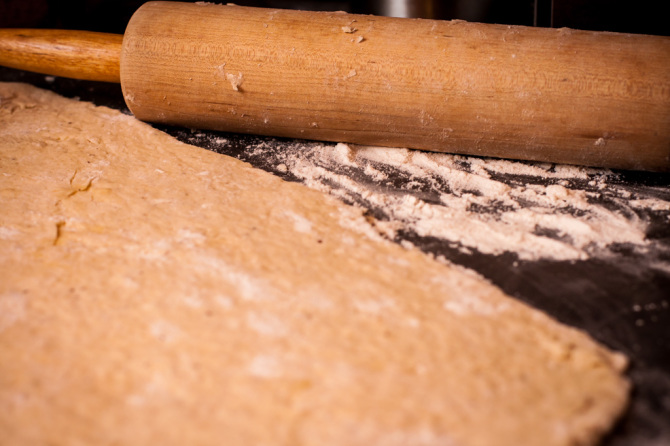 Next, add the apple filling to the dough.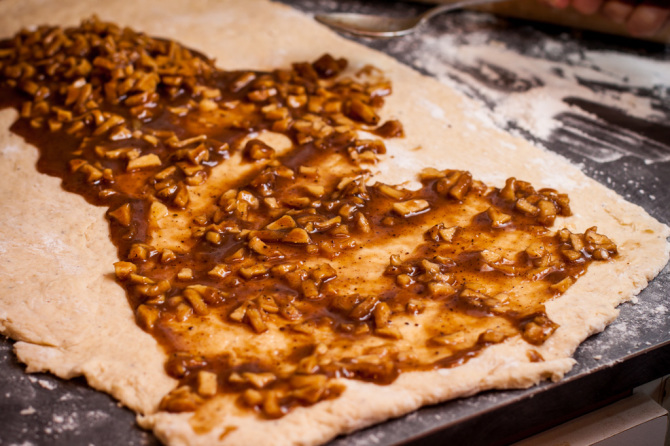 Spread it all around until it's covering all the dough. Try and get as close to the edges as you can because you don't want the bread to dry out in the oven.
This is so fun. My husband was like, "Ok, ok,  I think you got it good enough" I was just dazing out like "la,la,la,la, just spreading my apples." *Snap* Oh, yeah… you're right! To the oven we go!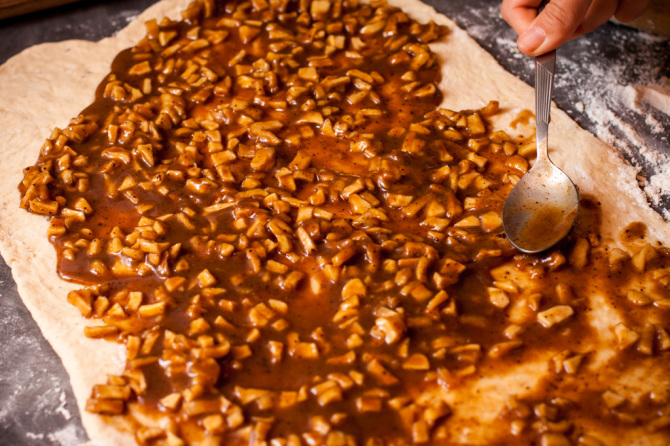 Start at one long side of the rectangle and begin rolling. The apples might squish out but try and keep as much as you can in there. You might need to lift and roll.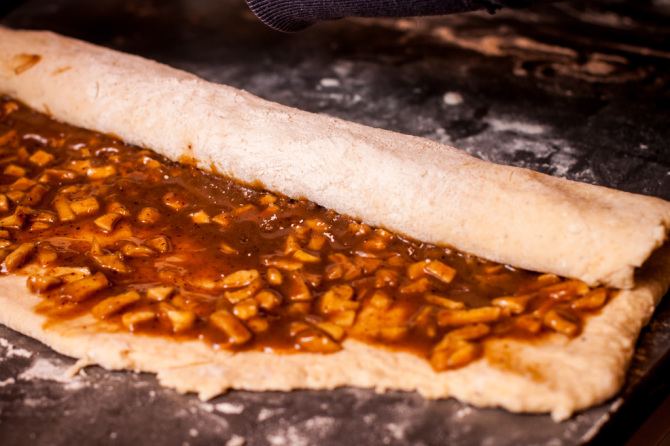 I used the apples that got squished out to put on top of the cinnamon rolls once they were in the pan. So have no fear! They will get used!
We don't waste sticky, apple, yumminess!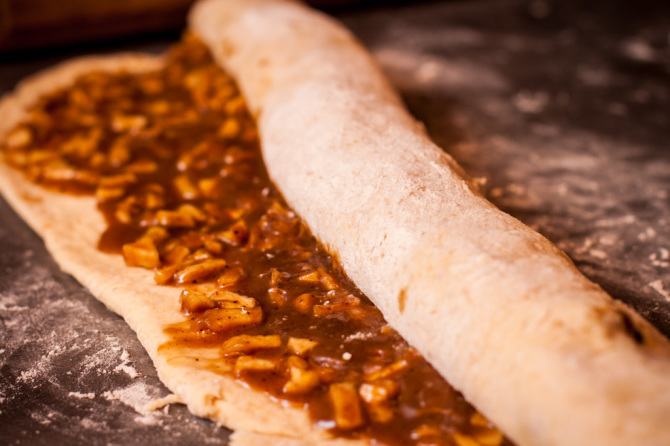 Then you should have a perfect apple dough roll! You can use a drop of water to seal the final flap of the cinnamon roll so it doesn't come unrolled. Just rub a little water underneath the flap and stick it to the dough.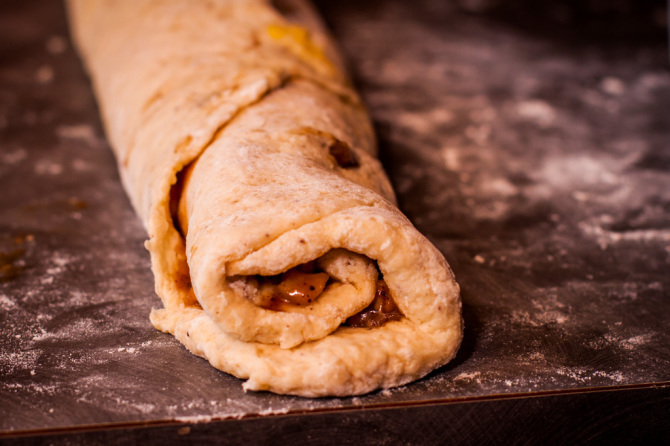 Next, using dental floss or a knife, gently cut into rolls. Each roll about 2 inches wide.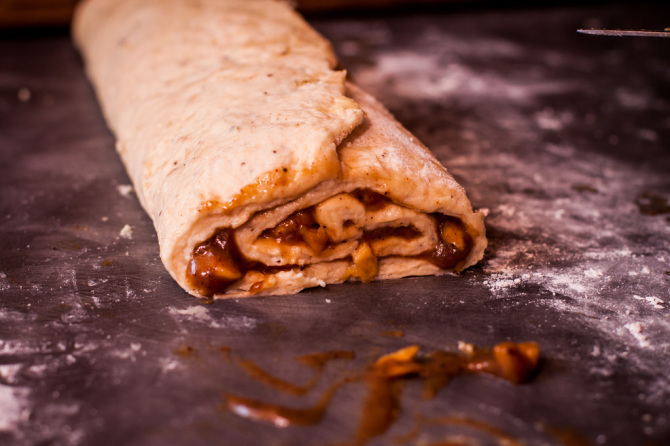 Place the rolls in a greased pan and cover the tops with any extra apple mixture that may have sneaked out.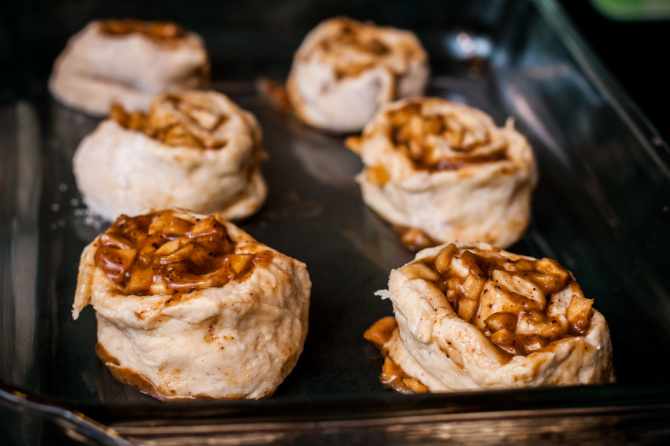 Bake for about 10-12 minutes or until golden brown.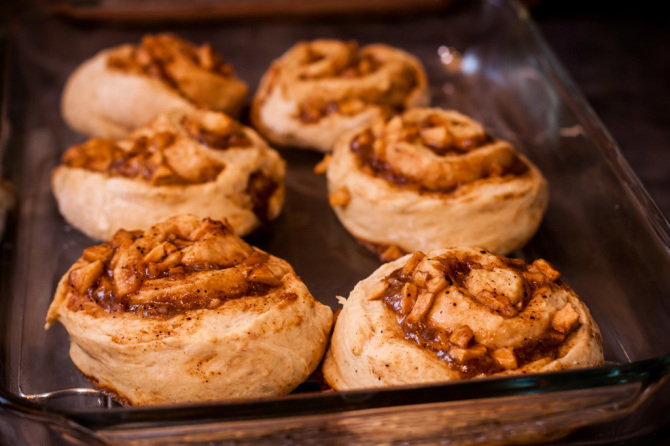 Top the Apple Cinnamon Rolls with the cinnamon glaze and enjoy them while they are warm!
I made these for some friends of ours and they were just raving about how fast I was able to whip them out and how yummy they were!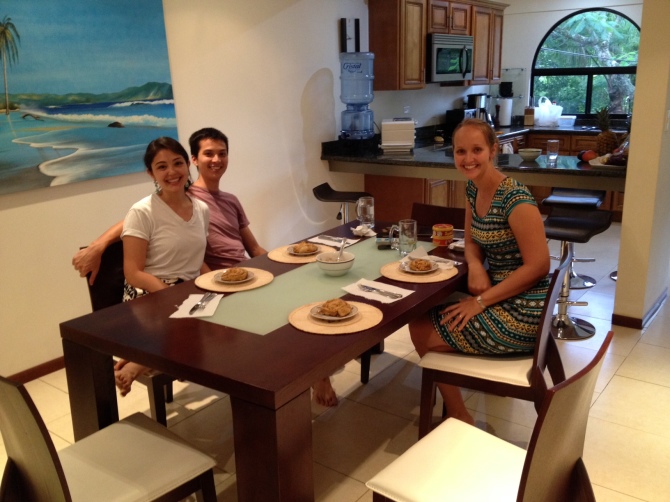 Thank goodness apples are easy to come by in Costa Rica! We are in apple heaven!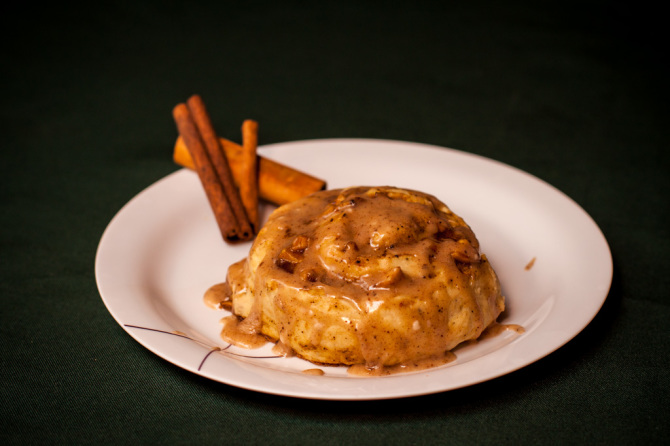 For the glaze, melt 1 Tbs of butter and add the powdered sugar, cinnamon, and milk. Stir until well combined. Add more milk if needed to get the desired consistency.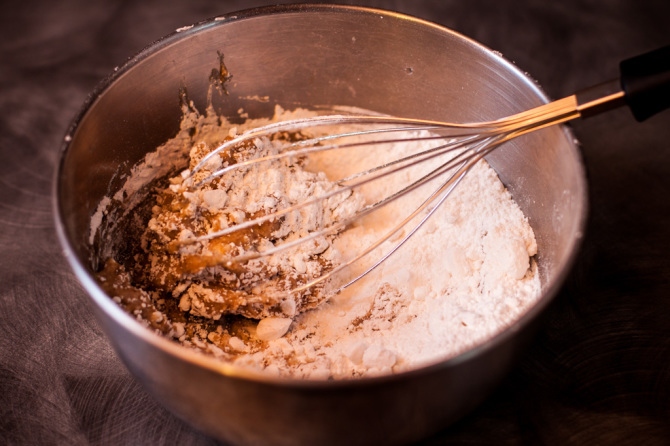 This glaze is really yummy! The cinnamon goes perfectly with the apples in the Apple Cinnamon Rolls!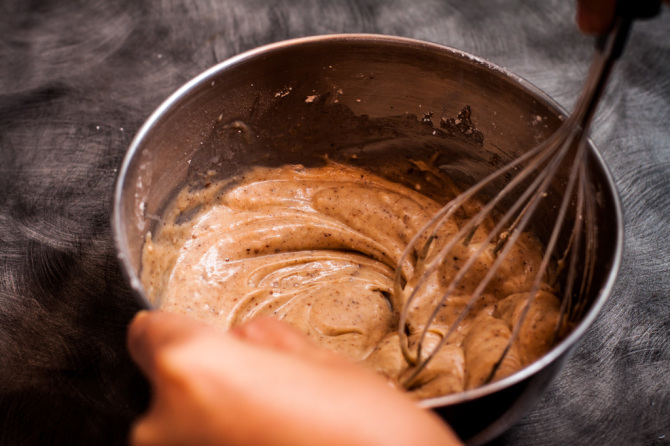 Apple Cinnamon Rolls
Apple Mixture:
2 large apples, peeled and cubed
4 Tbs. of butter
1/2 cup brown sugar
1/4 cup white sugar
1 Tbs. Cinnamon
Cinnamon Roll Dough:
2-1/2 cups all purpose flour, plus more for rolling out dough
1/4 cup granulated sugar
1-1/2 teaspoons baking powder
1/2 teaspoon baking soda
2 tsp. cinnamon
1/2 teaspoon salt
1 cup buttermilk
5 Tablespoons butter, melted and divided
Glaze:
1 Tbs of butter, melted
1 cup powdered sugar
1 tsp. cinnamon
1 Tbs. milk
Directions:
Preheat oven to 425. Combine apple filling ingredients in a small saucepan, and simmer until mixture is thickened.
In a large bowl, combine flour, sugar, cinnamon, baking powder, baking soda and salt. Whisk together buttermilk and 4 Tablespoons melted butter in a separate bowl, then pour into the middle of the dry ingredients. Stir together until dough just comes together, Kneed slightly with your hands until the dough forms into a ball
On a  floured surface roll into a rectangle. Using a rolling pin you should be able to get about a 24×10 inch rectangle. Spread the filling mixture onto the dough making sure to get all the edges well.Then starting from the long side, roll like a sausage. Pinch together the seam and cut into slices.
Place the rolls in a non-stick sprayed 9×13 pan. Top cinnamon rolls with remaining apple mixture that may have squished out when you were rolling and bake for 10-15 minutes, or until tops are golden brown.
To make the glaze melt the butter and stir in powdered sugar, cinnamon. Whisk in milk, until creamy or add more until you reach your desired consistency. Drizzle onto hot cinnamon rolls and spread evenly.
{Inspired by Easy Cinnamon Rolls}