Fried Plantains are a very popular snack here in Costa Rica. This is by no means anything healthy but I must share the Tico style and the way these plantains are prepared.
Don't get me wrong, they are DELICIOUS!
Isn't everything fried yummy??
Cruchy and salty, twice fried plantain chips, Costa Rican style! You will want more than one!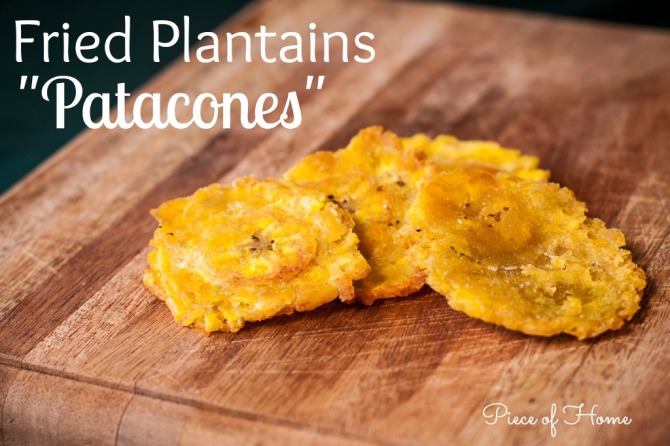 Mmmm, crunchy twice fried patacones!
Plantains can be purchased at your local grocery store. They are a really large green banana. Make sure they are green, not yellow!
Looks like a normal banana on steroids!
They are very hard and but look just like a regular banana on the inside. Sometimes they can be a little darker in color depending on the type of plantain.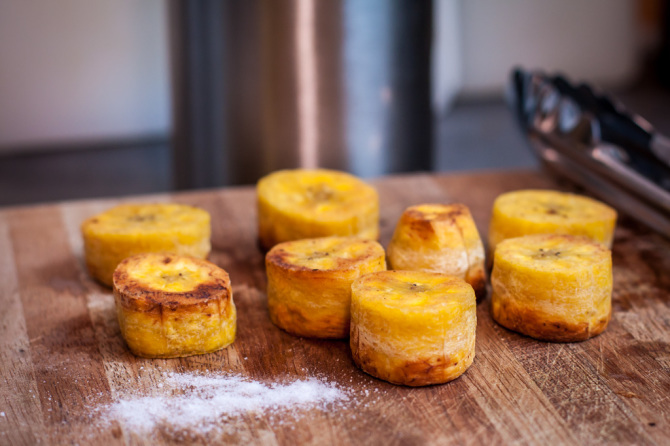 First get about a cup of oil heating in a pan. Cut both ends off the plantain and slice through the skin. Peel using your fingers or by wedging your knife under the peel and pry it off. The peel is really tough and can be hard to remove.
Next, cut the plantain in small chunks like you see in the picture above. Fry the chunks on both sides until they make a hollow sound when you tap them.
CAUTION: Please use EXTREME caution when working with hot oil. Do not let a drop of water into your hot oil or you could cause a fire! Use long tongs to keep your fingers away from jumping hot oil!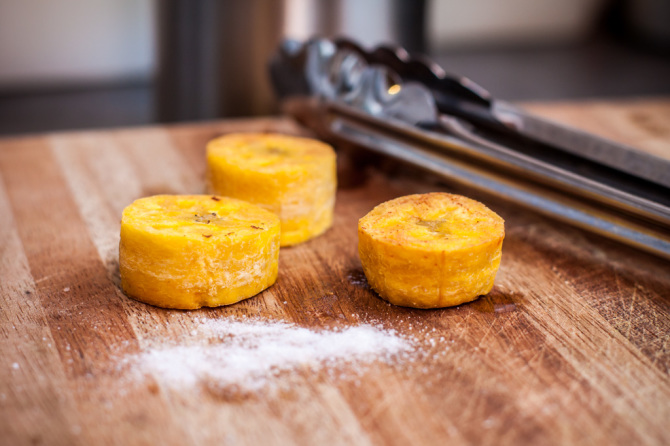 Next, add salt to the plantain chunks you have just removed from the oil.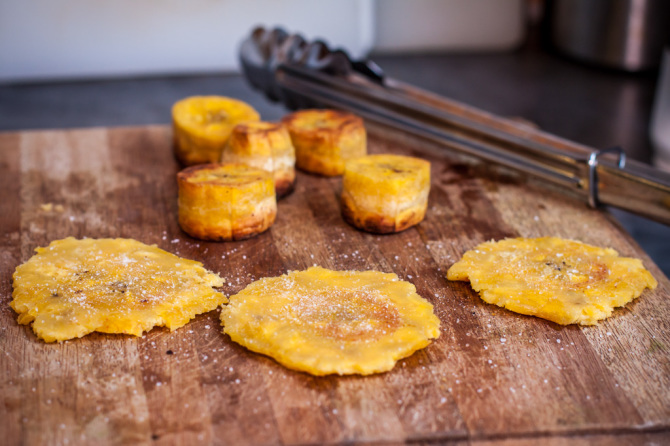 Using the bottom of a jar or something flat, squish the fried plantain chunks until they are thin.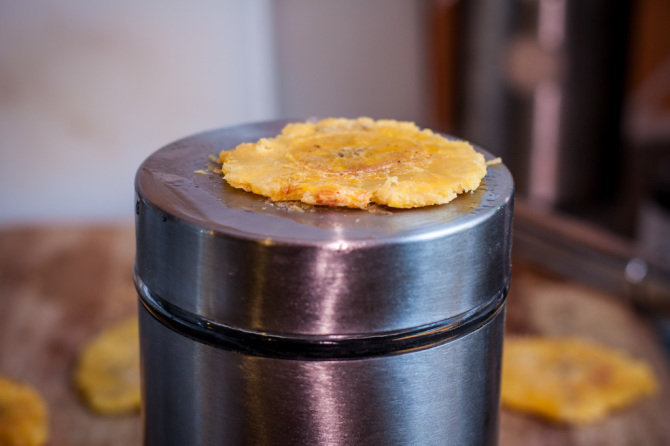 We usually squish them until they are the thickness of about two stacked quarters. The thinner the better because they get more crunchy when they are thin.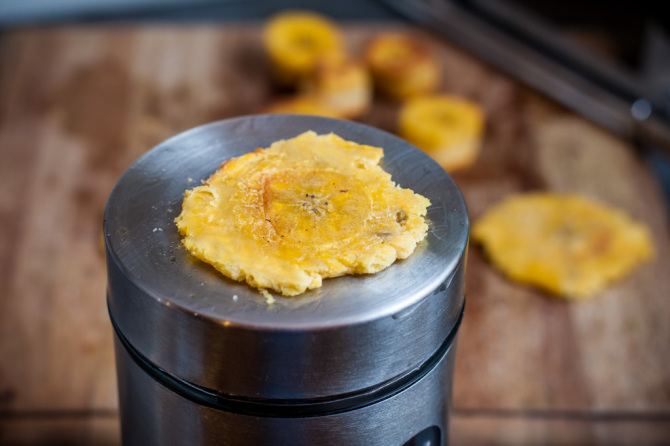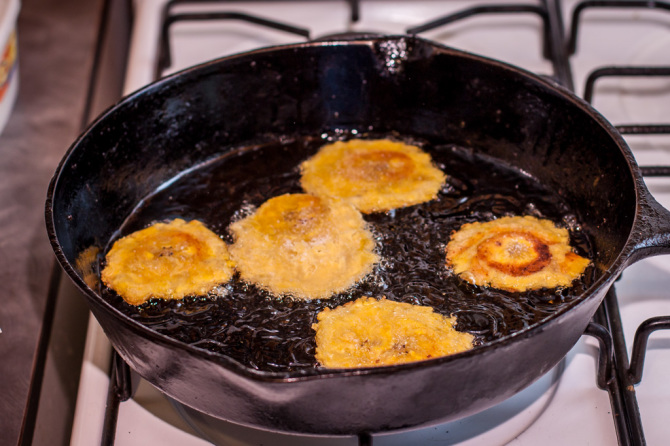 Next, place the squished patacones in the hot oil and fry on both sides until they are browned or crunchy.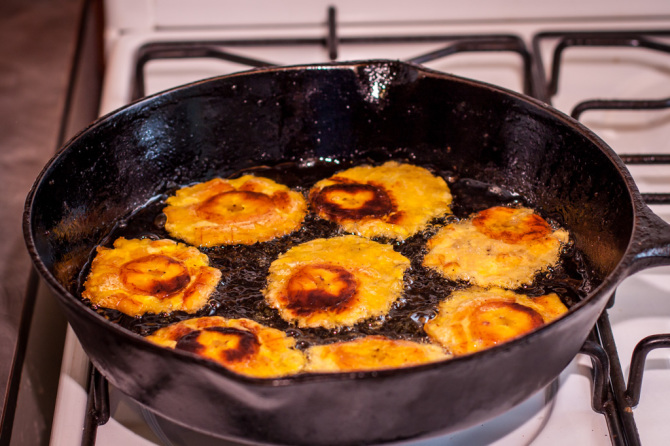 Usually my oil is really hot by now and these cook fast. Be careful not to burn them! I am famous for burning them every time!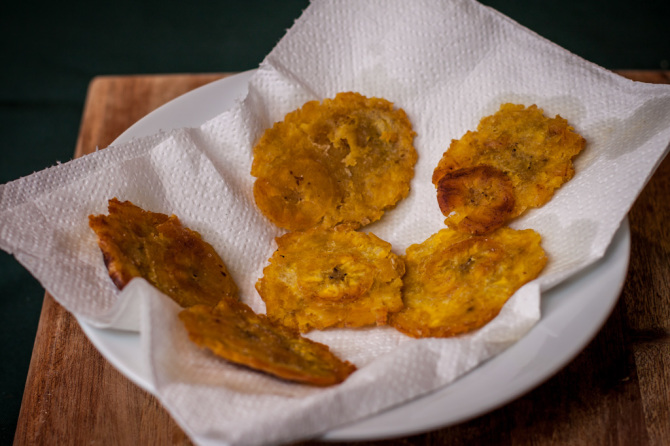 Remove the patacones from the pan a place in a bowl with paper towel to help absorb the oil. Sprinkle with salt again while the oil is still hot. These are best eaten while hot, so eat up!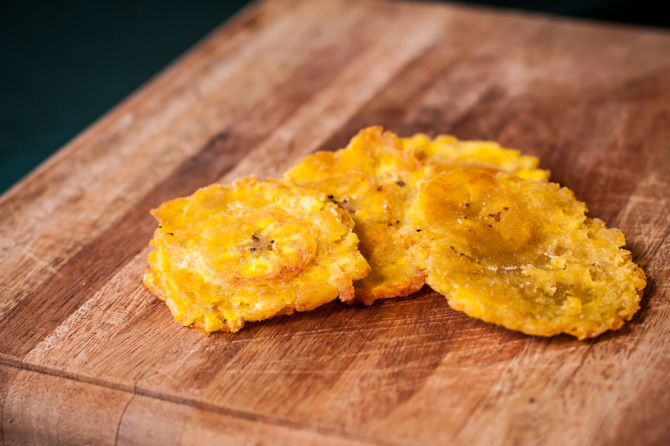 Once they cool, they can become soggy. So be sure to eat them right when they come off the pan! We re-heat our patacones in the oven and they are still pretty good.
Patacones – Fried Plantains
Ingredients:
1-2 large plantains
1 cup of vegetable oil
salt
Directions:
Cut both ends off the plantain. Score the peel just so you have enough room to wedge the peel away from the plantain. Using your knife or fingers, wedge away all the peel. Slice the plantain in chunks, about 12 chunks per plantain. Place in hot oil and cook on both sides until browned or hollow sounding when you tap on them. Remove from oil. Use a flat object like the bottom of a jar and press hard until the plantain has been squished really thin. Repeat with remaining chunks. Place the thin squished plantain chunks in the oil and fry until crispy. Remove from oil and sprinkle with salt. Enjoy the patacones while they are hot!
Check our my Baked Version of Patacones. It is a MUCH healthier way to eat patacones but of course you must try them fried at least once.
Or twice. Yum!
This is a really great snack and kids love them! Let me know how you like them!