Moist, warm, cheesy drop biscuits that accompany any meal perfectly! 

There are a few meals that must have a yummy piece of bread with it. I grew up loving the warm fresh bread from Albertson's. It was our famous dinner when I was a kid. Chicken Casserole with fresh bread from Albertson's.
These little hot buns have changed my mind!
So simple that even running to the store to get some bread would take take WAYYYYY longer then making these!
Yes!! Another quick and easy addition to the table.
There are so many additions you could add, such as rosemary, chives, sun dried tomatoes, olives, roasted garlic, etc… The possibilities are endless with this simple base recipe!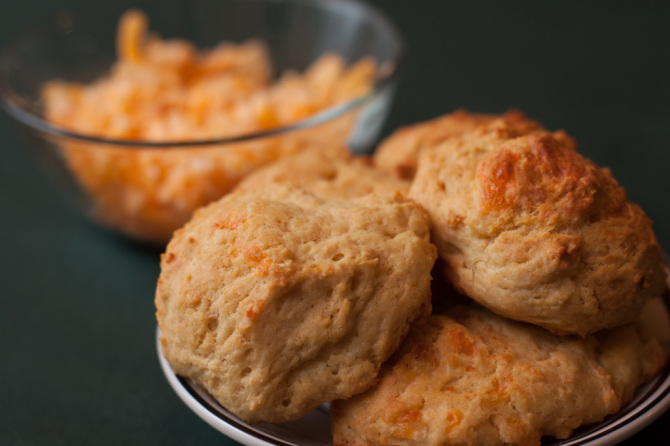 Cheesy Drop Biscuits 

Ingredients:
2 cups of flour
1 Tablespoon of baking powder
2 teaspoons white sugar
1/2 teaspoon cream of tarter
1/4 teaspoon salt
1/2 cup melted butter
1 cup milk
Directions:
1. Preheat oven to 450 degrees F.
2. Combine the flour, cream of tarter, baking powder, sugar, and salt to a medium bowl. Mix together.
3. Gently stir in the milk and butter and mix until well moistened. Add the cheese and mix until evenly combined.
4. Drop a Tablespoon of batter on a lightly greased cookie sheet. Bake for 8-12 minutes or until golden on the edges.
{adapted by allrecipes}