I love Asian food! Maybe its all the sauces, there are so many and they just burst with flavor! These cabbage rolls are super fun and you can even tweak it to make lettuce wraps! My best friend Meghan showed me those and now they are a family favorite! You can buy Chicken Lettuce Wraps
 from the grocery store and as long as you have some ground beef and soy sauce they are perfect for when you're in a hurry! I do love the cabbage rolls though, they just add a wonderful flavor and the ginger in the recipe is yummy!
This is a very fun meal to make and to eat as well! My husband loves his veggies so this is one of his favorite meals! Mine too! :)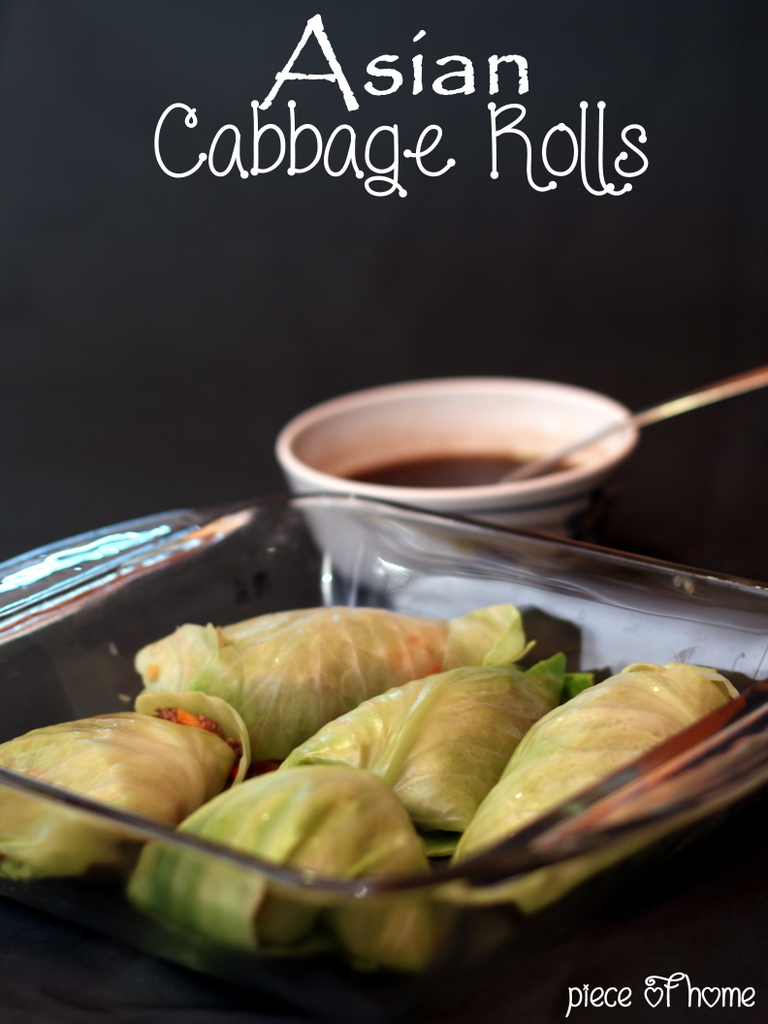 Asian Cabbage Rolls
inspired by: Seeded at the Table
8-10 cabbage leaves
1 lb. ground beef
1/2 cup cups cooked rice
1/2 cup diced tomatoes drained
1  green onion
1/2 cup diced carrots
1 Tbsp garlic
1 teaspoon olive oil or 1 teaspoon canola oil
1/2 teaspoon ginger powder
1 tablespoon minced garlic
1/2 cup soy sauce
1/2 cup water
1/4 cup brown sugar
Directions:
Preheat oven to 350. Spray a 9×13 pan with cooking oil. In a large saucepan, heat oil and add green onion, carrots, and garlic until soft. Cut around the stem of the cabbage and remove. Place the  head of cabbage in a pot of boiling water. After a while, the leaves will start to peel away from the head. Remove leaves until you have about 10-12 leaves. Allow 5 minutes to cool.
In a large bowl combine the cooled onion mixture with the tomatoes, beef, and rice. Place about 1/3 cup of beef mixture into each cabbage leaf. Fold the bottom edge over the beef mixture and tuck in the edges until it forms into a roll.  Place in oven for 1 hour
In a separate bowl mix together the dipping sauce. Combine the oil, water, and soy sauce. Then dissolve the brown sugar and ginger powder. Add garlic and stir. Serve warm with the cabbage rolls.
Enjoy!