The perfect combination of soft and sweet! These sugar cookies have the softest consistency! Just delectably perfect!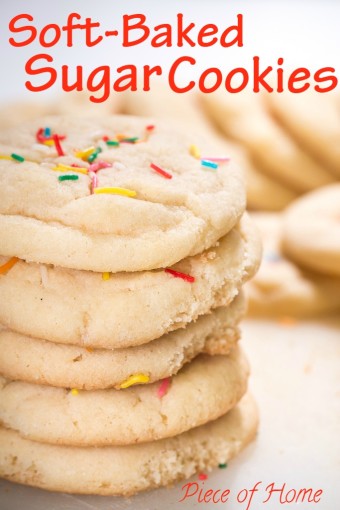 I'm sure that I'm not the only one out there who loves those terrible sugar cookies with like a cup of frosting on each cookie. You know the ones I'm talking about right? The Lofthouse brand? Yeah… pretty good stuff!
But not as good as these!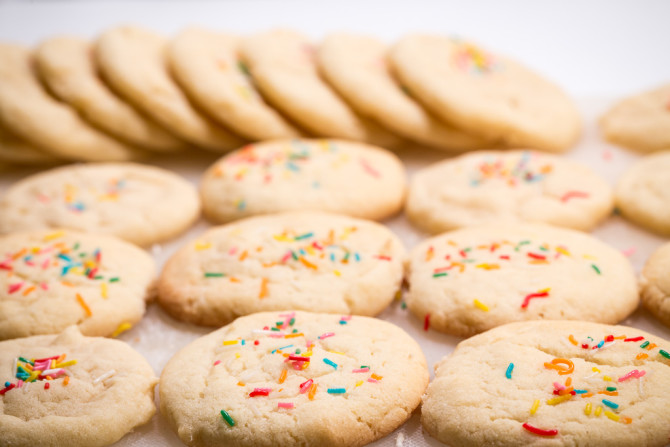 This is such a simple and perfect happy ending to a cookie who really deserves it! I can't get enough of how simply perfect these are!
Those are the kind of recipes I love! Simple and so satisfying!
Try them out and let me know what you think!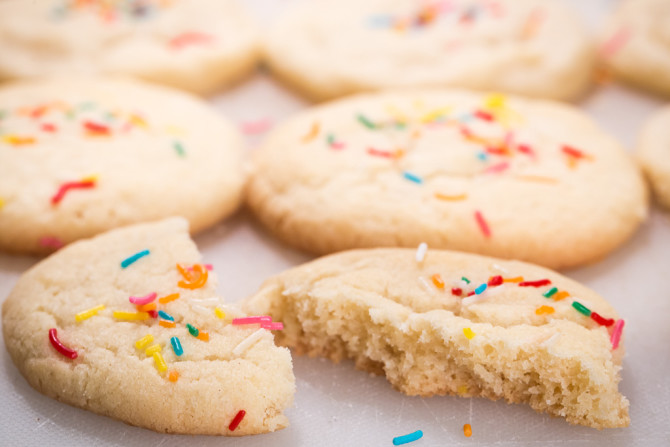 Soft-Baked Sugar Cookies 

Ingredients:
1/2 cup butter, softened
3/4 cup sugar
1 egg
1 teaspoon vanilla
1 and 1/2 cups all-purpose flour
1/4 teaspoon salt
1 teaspoon baking powder
1/2 teaspoon baking soda
1 teaspoon cream of tartar
sprinkles for garnish
Directions:
1. In a large bowl, cream the softened butter and sugars for about 1 minute on medium speed until light and fluffy.
2. Mix in egg and vanilla. Set aside.
3. In a medium size bowl, whisk together the flour, salt, baking powder, baking soda, and cream of tartar.
4. Slowly add the dry ingredients to the wet ingredients. The dough will be thick.
5. Scoop dough, about 2 Tbs, and roll into balls. Add sprinkles to the top of each ball dough.
6. Chill the balls of dough on the cookie sheet for at least 2 hours. This keeps the cookies from spreading in the oven.
7. Preheat oven to 350 degrees F. Line two large baking sheets with parchment paper.
8. Bake chilled cookie dough for 8 minutes. The cookies will appear very soft and doughy. Allow the cookies to cool on the cookie sheets for 3 minutes and move to wire rack to cool completely.
Enjoy!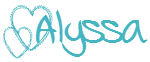 {adapted from Sally's Baking Addiction}