A great summertime cold salad, a refreshing side dish!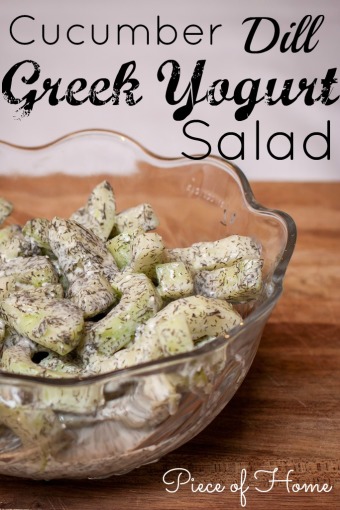 I was inspired by my friend Lori to make this salad since she shared a picture of her lunch the other day! I was so glad we tried it out. It's a perfect salad for lunch on a hot day and a great way to get the veggies in!
My husband loves Dill so this was a big hit! I will be making this again! We live about a 25 minute bus ride away from the market where we normally get our veggies and we hadn't been to town for a week since we have been working away.
It felt like we were in a vegetable drought. Uh-oh.
I get kind of grumpy when I don't have any vegetables because it feels like my cooking options are limited.
So I was really happy to have these 3 beautiful cucumbers sitting on my cutting board waiting to be eaten!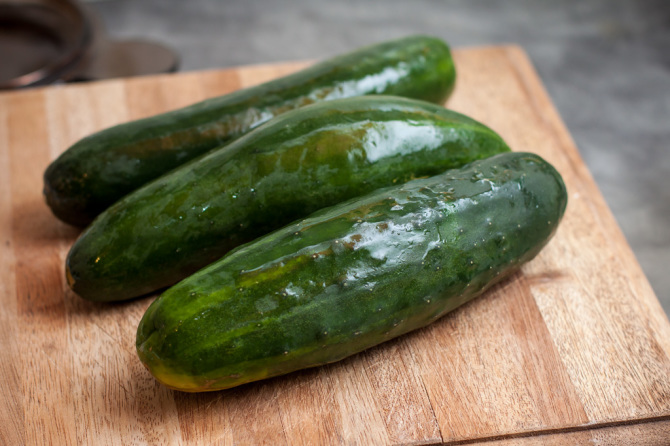 They look so juicy! The one in the middle had a weird lump but it was still really yummy! (Cucumbers are one of my favorite veggies besides carrots)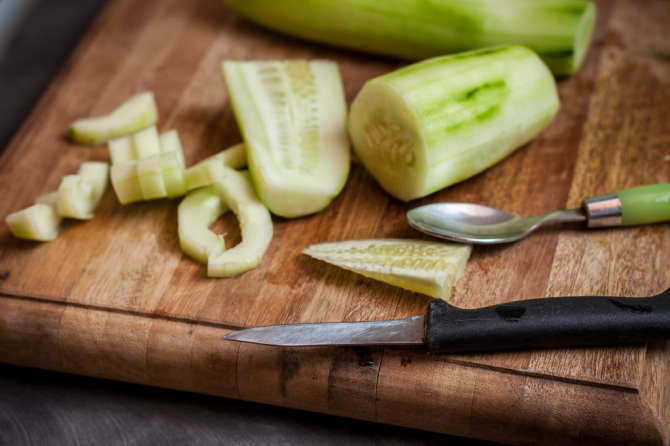 Start by peeling the cucumbers and slicing them in half. With a spoon scoop out all the seeds and then with your knife, slice into little half moons.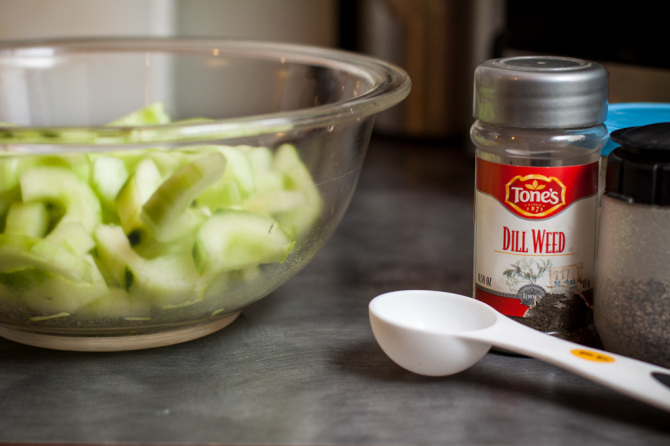 Next, add the dill, salt, pepper, and garlic powder,vinegar, and Greek Yogurt.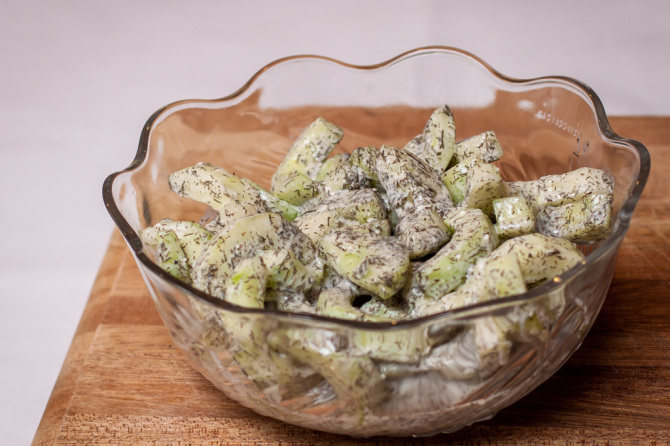 And there you have it! I love these kind of "toss-in-all-in-and-stir" recipes. They are quick and for lunch, I always want quick! Enjoy!
Cucumber Dill Greek Yogurt Salad
Ingredients:
3-4 large cucumbers (about 2 pounds)
4 tablespoon plain greek yogurt (I used some of our Homemade Yogurt)
1 Tablespoon dill
1 tablespoon rice vinegar (substitute red or white wine vinegar if needed)
½ teaspoon sugar
½ teaspoon salt
¼ teaspoon black pepper
¼ teaspoon garlic powder
Directions:
Peel the cucumbers and cut them in half. Scoop out all the seeds with a spoon and then cut into half-moon shapes. In a medium bowl combine yogurt, dill, vinegar, sugar, salt, pepper and garlic powder. Add cucumber to bowl and toss with yogurt/dill mixture until combined well. Add additional salt and pepper or even some cayenne for some spice.(husbands preference) Refrigerate covered until ready to serve.
{adapted by She Wears Many Hats}